Overcoming adversity | Chef's Table star Tim Raue on Asian flavour and self-development
It takes determination and steely character to make it as a chef – and that's what Berlin's Tim Raue has in spades. As Chef's Table Season Three airs on Netflix, he tells us what makes his cooking so unique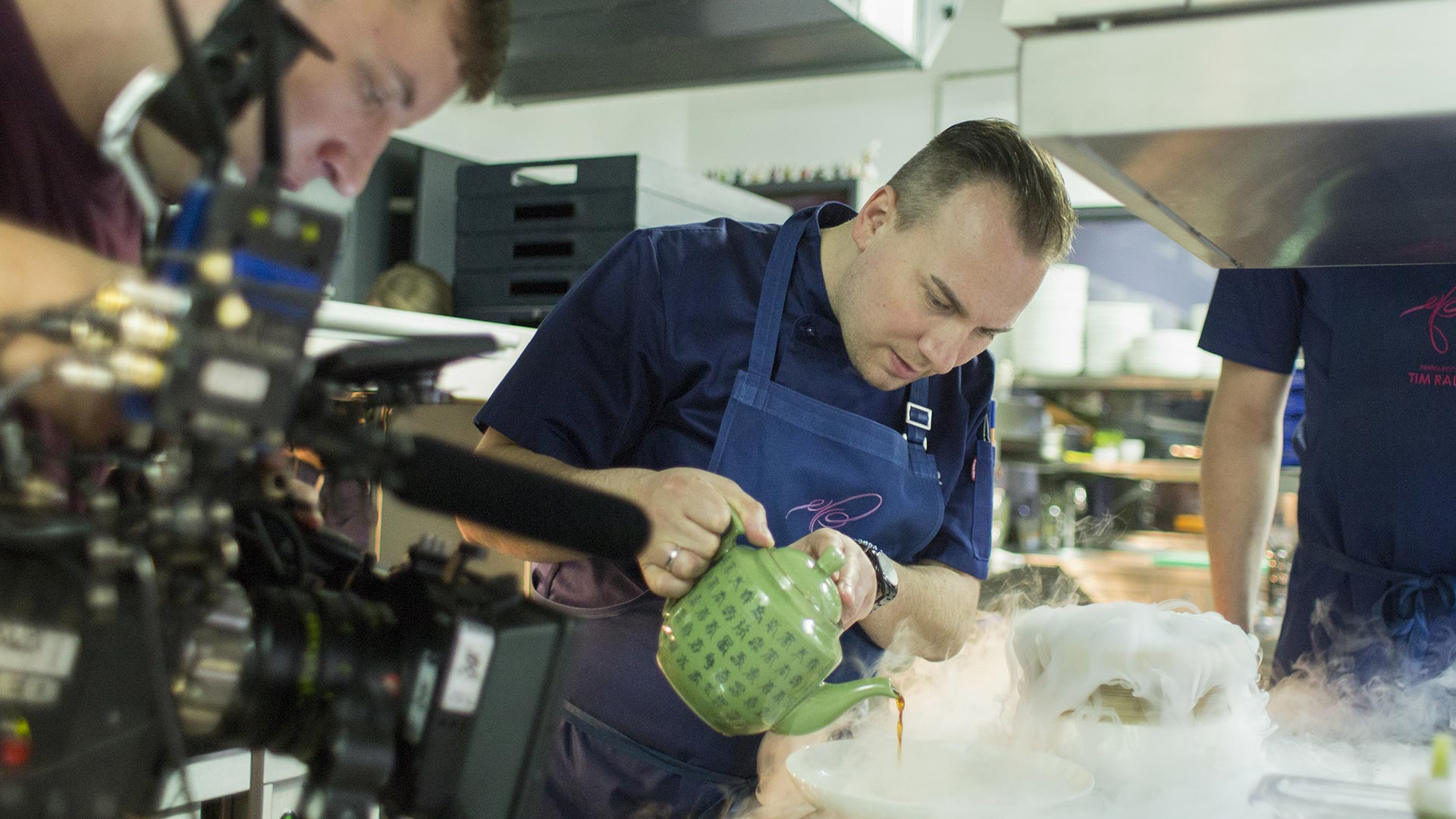 It's no secret that working in a kitchen is one of the toughest jobs out there – long hours and low pay, often in a stressful, aggressive environment – so we have a certain respect for all the chefs we come across. This particularly applies to Berlin's Tim Raue, who overcame a troubled childhood to become one of the world's best cooks. Raue won his first award at 24; his eponymous restaurant now has two Michelin stars, and ranked this year at 48 in the World's 50 Best Restaurant List.
With a personality and cooking style as unique as Raue's, it's unsurprising that Netflix featured him in the latest season of Chef's Table. Here, the chef tells us about his love of Asian cooking, and not being afraid to break the mould. 
Your Netflix episode touches on your childhood; how did your upbringing shape your attitude to your career?
I grew up in the poorest part of Berlin with a lot of immigrants. I had problems with my father – he abused me for no reason – and I became filled with seeds full of black hate. I was heavily involved in gangs. On the street, it was just survive or die, at the end of the day. I became the only German in the most violent street gang there was, and I was really criminal until I left school at the age of 16.
Eventually, I transformed that aggression and that power, and took it in the first year of my apprenticeship to push myself and be dynamic and energetic while I was cooking, staying 14, 16 or 18 hours a day in the kitchen. It was still driving me until five years ago, because I felt as if every day I could wake up in the morning and be back where I started.
These days I'm more like who I was before the abuse, a charming guy who treats the people around him nicely. But between 23 and 35, I was only focused on being successful, trying to be the best, and I was not looking out for the people around me properly. I was absolutely focused on being the greatest and getting the highest awards and accolades.
When did you decide you wanted to become a chef?
At the age of 16, I had to leave school. I wanted to find a job, I wanted to have my own apartment – that was possible at the age of 16 in Germany – and I wanted to work and make money. One of my teachers told me that cooking is on one hand creative, which I loved to be, but on the other hand, it's very hard work – but you can be successful at the end of the day.
Even five years ago, I felt like I could wake up and be back where I started
I had to start out in an easy and simple restaurant – I couldn't get a job at a good one – but I recognised, even in my three-year apprentice period, that within two years I had to change because the place was too shitty. So I went to a restaurant that was much better, and was on its way to its first Michelin star, and I finished my time there.

From there, I went very directly and very quickly into the world of fine dining. I became a head chef at the age of 23 and my first award came when I was 24.
How would you describe the way that you cook?
I'm a tiny fatty German who had the luck to mix up his food with the Japanese idea of product perfection, the technique and the yumminess of Cantonese food and Thai flavours. Every dish has natural sweetness given by fruits, acidity from citrus, with spiciness and a herbal touch.
How did you come to discover Asian cooking?
I worked in Asia for five years, and fell in love with two aspects of Asian dining.
The first was the flavour – I loved the spiciness. Until recently, Germany looked to French fine dining. French food is full of harmony, and so we all cooked with less flavour, fewer herbs, no spices. That's what I love about Asian cuisine – it's like a roller coaster on your palate.
The second aspect is the atmosphere. I love the social confidence in Asia. There, you don't go as a couple, you go in bigger groups; you share food and you share your experience. You talk about everything. And that's what I wanted to recreate.
Netflix Chef's Table Season Three:
What's your favourite dish on your menu?
It's one of my signatures – Cantonese-style langoustine with wasabi. Originally that dish is from contemporary Hong Kong cuisine. I was coming up in the late 90s, beginning of 2000s, and I took that dish and elevated it with better techniques and products.
We substituted the prawn for a much fleshier, juicier langoustine. Instead of serving some cut fresh fruit, we're serve a Thai-style vinaigrette, and to enhance the crispiness of that dish, we sprinkle some Vietnamese green rice flakes over it.
An Asian would never do that, because the Vietnamese are cooking Vietnamese, the Chinese are cooking Chinese and they don't mix. Thankfully I can do whatever I want and create that type of Asian cuisine.
My style of cooking is unique – I don't need to fulfil other people's expectations
Which chefs have been most influential on the way that you cook?
No one. I create my own unique style of cooking and that's the reason why I'm so successful.
There are chefs that inspired me in the way that they act and the way that they handle the job. Marco Pierre White was one of my idols because, in the 90s, he didn't give a shit about everything that other chefs had done before and how they acted. He'd have long curly hair and a cigarette in his mouth while making a foie gras terrine.
At the end of the 90s I was working in Spain, at elBulli with Ferran Adria, and it showed me that I don't have to fulfil others' expectations. I have to create something that other people want to come and look for, and it has to be unique and it doesn't need me to copy a style.
Would you ever open a restaurant in London?
That's something which I'm open to. I've just been for negotiations in London some weeks ago – it could happen, although it's not a must. I love London because the market is awesome. There's a lot of people eating out, as well as tourists travelling there, that means that restaurants can be booked the entire time and that's the only thing that I want to do.
For me, with everything that I do, it's kind of a temporary art that I create, but at the end of the day the restaurant must be full and must be a business. And this is something that's not normal in Germany. We see fine dining from a more cultural point of view, which means that restaurants lose money.
CHEF'S TABLE SEASON 3 is available globally now, exclusively on Netflix; netflix.com. For more information on Tim Raue, visit tim-raue.com