Best food and drink Advent calendars for adults
From chocolate Advent calendars to wine Advent calendars… oh, and a chilli one, too, we've rounded up the best, the quirkiest and the most luxurious edible Advent calendars for all the big kids and successful adults this Christmas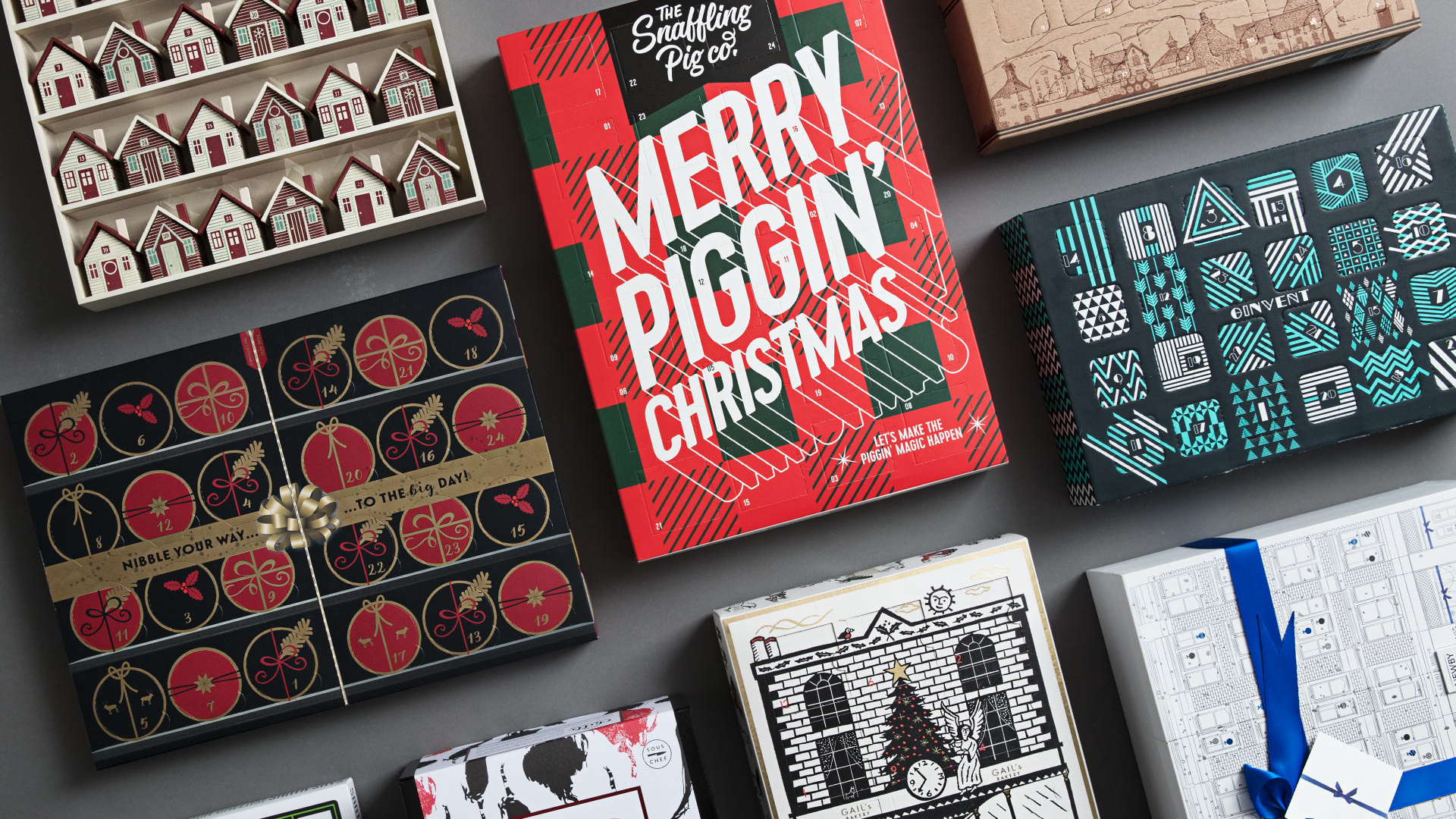 Our guide to the best food and drink Advent calendars is back and this year it's bigger than ever. We've searched to the far reaches of the capital and beyond to bring you the coolest and most eclectic mix of edible Christmas treats. Think we've missed one? Drop us a line on social and let us know.
Chocolate Advent calendars
Ultimate Advent village by Paul A. Young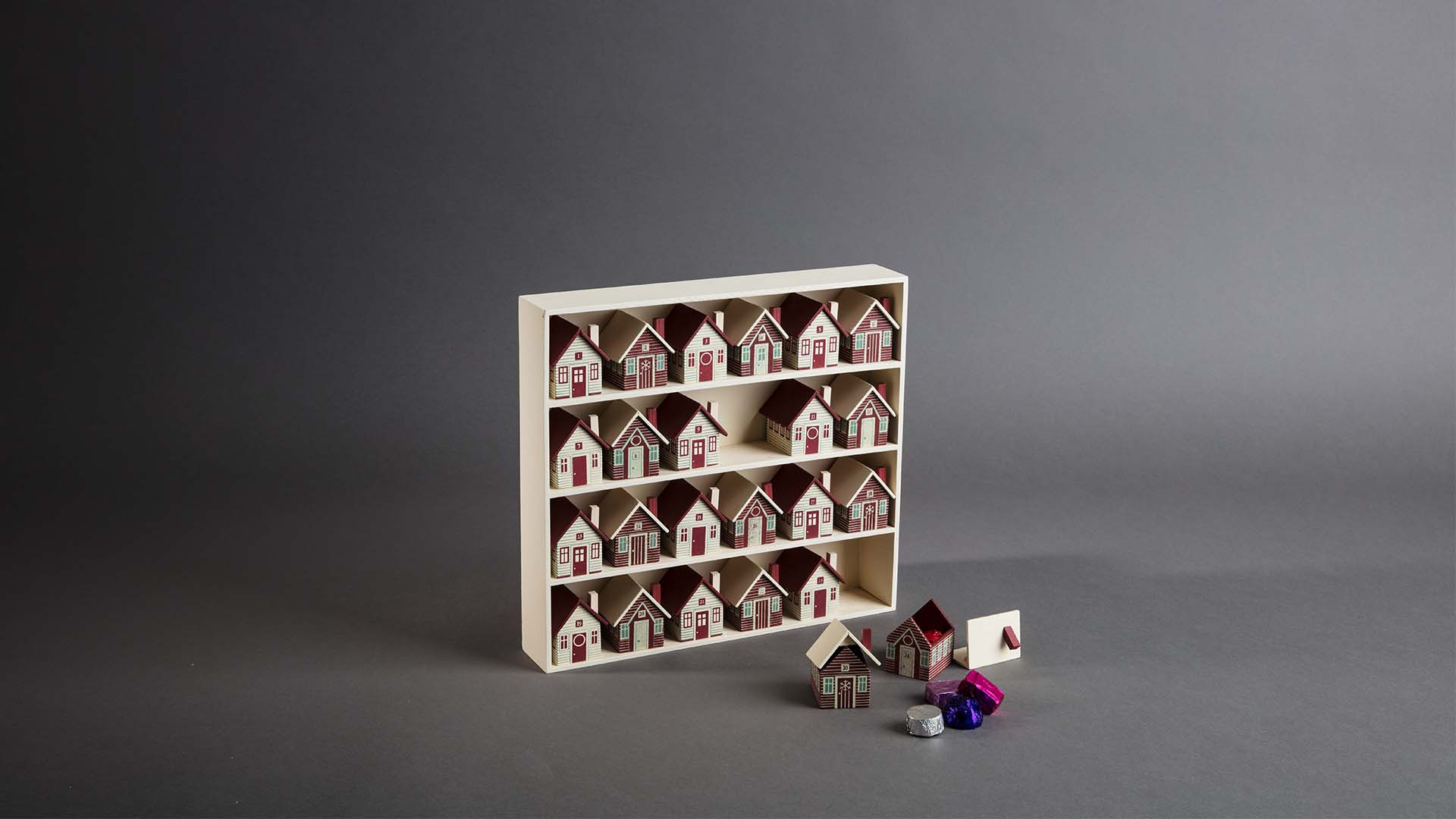 A tiny little village housing tiny little treats from artisan chocolatier and flavour king Paul A. Young – what more could you ask for this December? Did we mention it's reusable? Oh yes, and if you snaffle them too quickly... er, we mean, if you already have one from last year, refill packs are available, too. In true Paul A. Young style, flavours include caramel latte, milk chocolate gingerbread, gin punch, and a quirky but delicious burnt sugar eggnog truffle, and if there's one thing that will get us up in the morning, it'll be the excitement about ripping the roof off the next Advent calendar house. This one has got our vote for one of the best Advent calendars in the capital.
£65 / 25pc refill box for £34; paulayoung.co.uk
12 Days of Christmas Advent calendar by GAIL's Artisan Bakery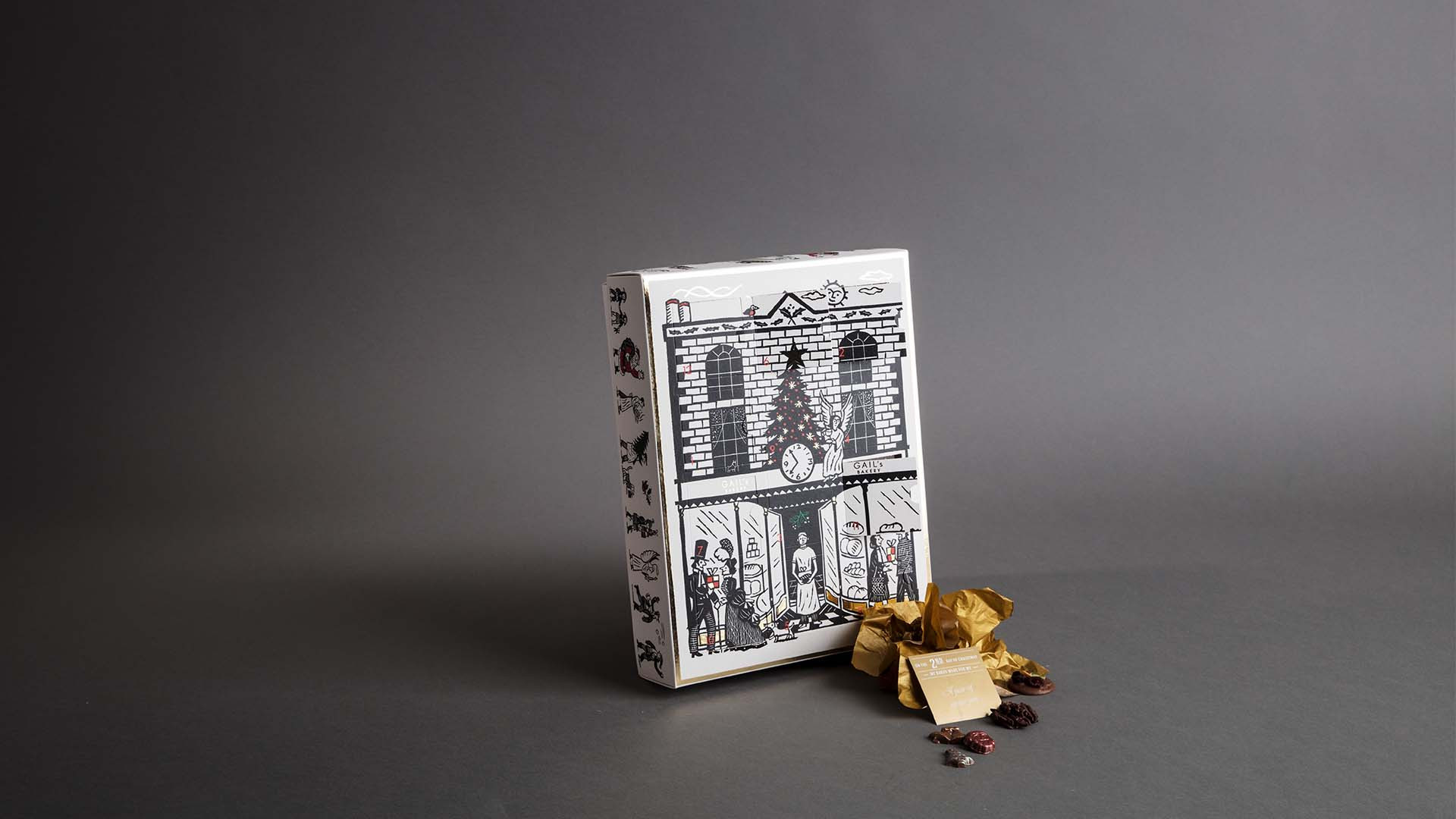 When it comes to the first ever GAIL's Advent calendar – made in collaboration with London chocolatier Alex Mariz – it's less Advent and more like the 12 days of Christmas that keep on giving. Behind each of its dozen doors hides not only a sweet treat, but also a gift certificate that you can redeem at any one of GAIL's 38 bakeries across London. YUM, we know. 
£30; gailsbread.co.uk
Savoury Advent calendars
Pork Crackling Advent Calendar by The Snaffling Pig Co.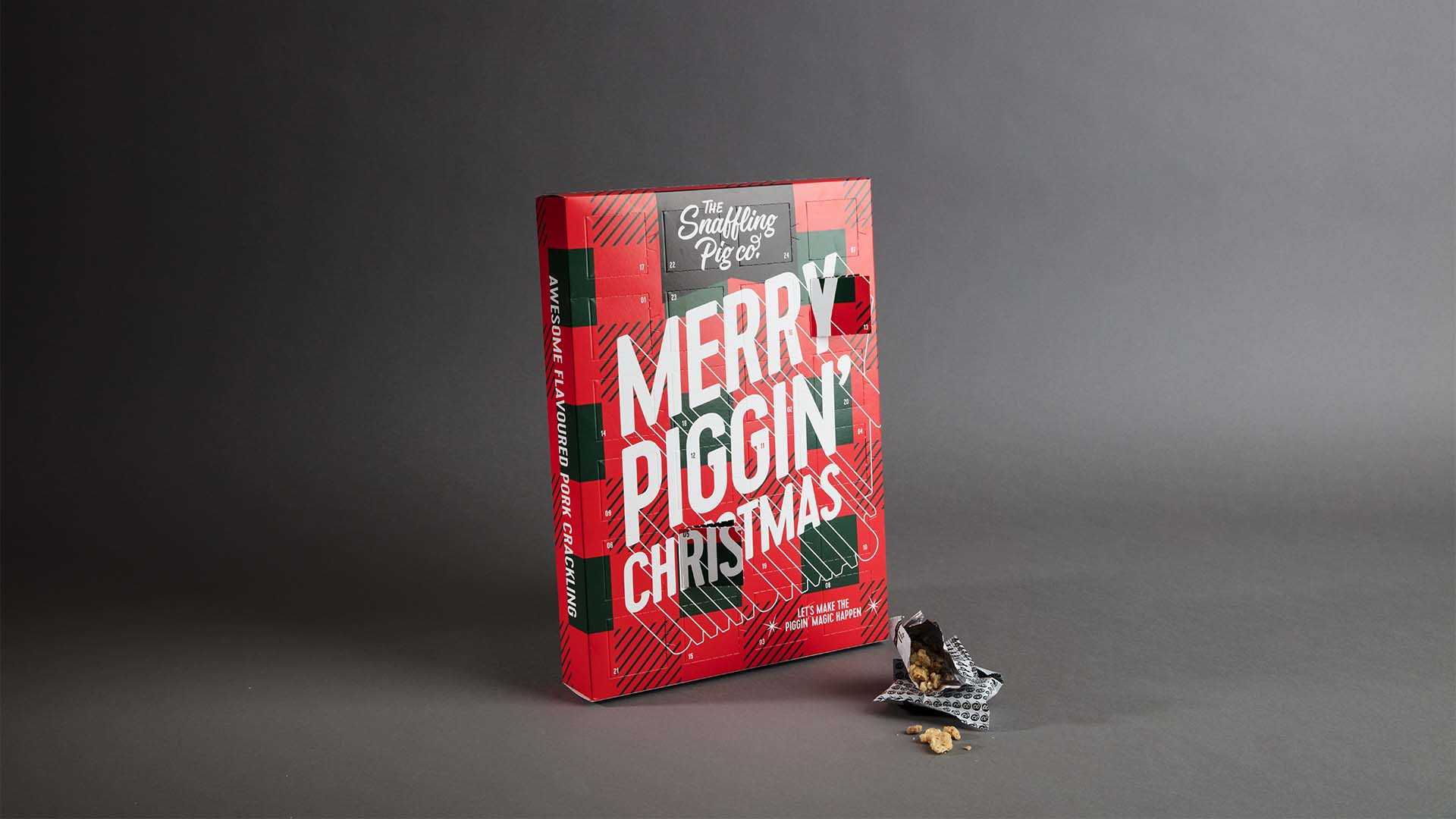 Pig out (again) this Christmas-time with help from The Snaffling Pig Co.'s epic pork crackling Advent Calendar. Behind each door hides a crispy, crunchy treat – and if you thought there was only one flavour of pork scratching, think again, because this one has six: pigs in blankets, low and slow BBQ, maple, black pepper and sea salt, salt and vinegar and perfectly salted. 
£17.50; snafflingpig.co.uk
Cheese advent calendar by SO WRONG IT'S NOM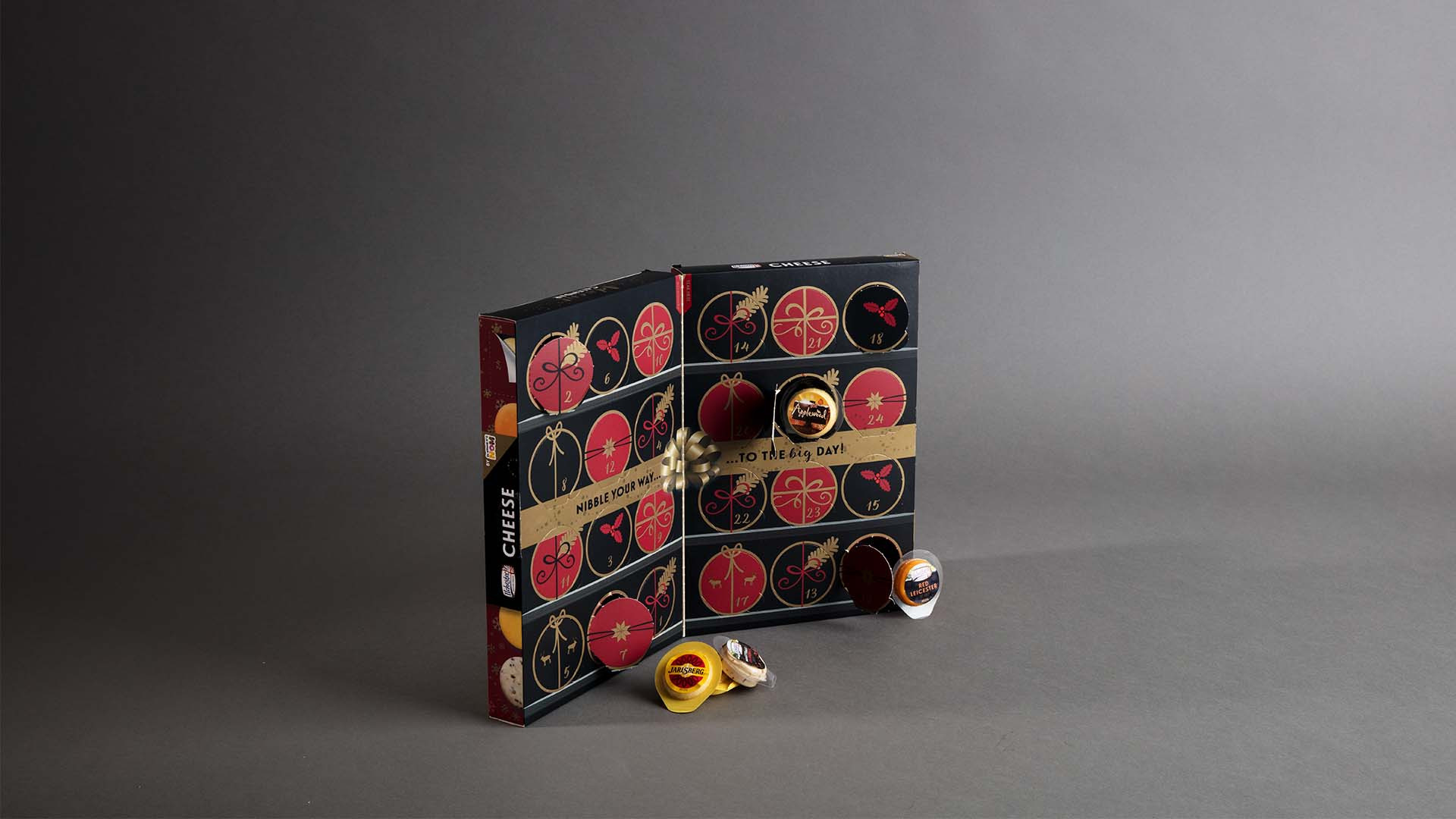 We love cheese and if we could eat it everyday we'd be happy (chubby) bunnies, which is why when we heard about food blogger Annem Hobson's cheese advent calendar, we couldn't help but get excited. From Jarlsberg to Applewood, the calendar houses five varieties of cheese and is the perfect countdown to Christmas for any savoury snacker. 
Drinkable Advent calendars
House of Newby 2017 Advent calendar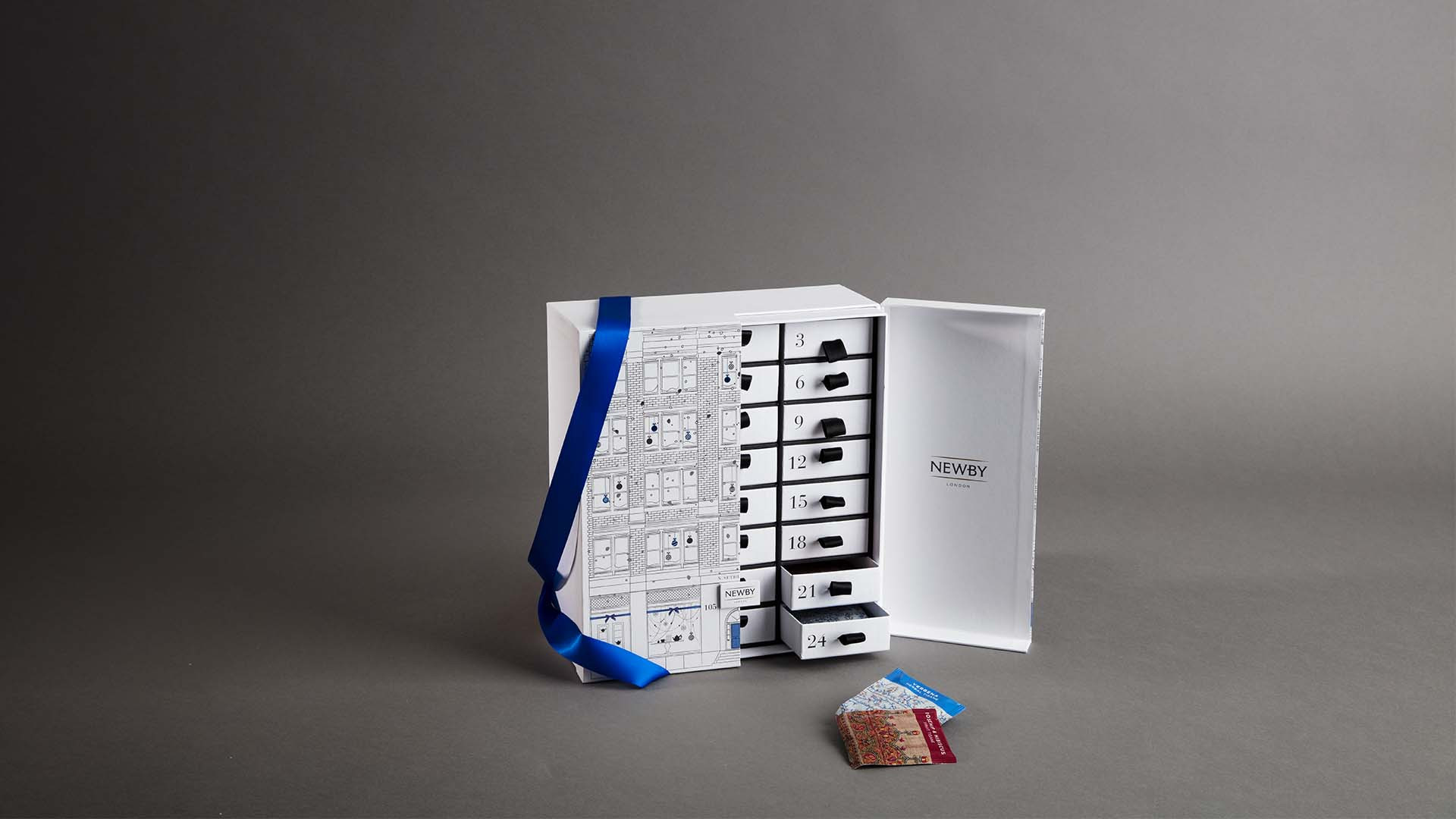 This might just be the most British Christmas calendar we've ever seen – behind 24 numbered drawers sits a whole Advent's-worth of individually wrapped black, green and oolong luxury Newby teas, all of which are decorated with the patterns of vintage Indian textiles. Wrapped in a royal blue satin ribbon and housed within an illustrated facade of Newby Tea's London HQ, this fine tea Advent calendar definitely gets our vote for being the prettiest and most stylish of the year. 
£55; newbyteas.co.uk
Alternative Advent calendars
'Eat Your Greens!' chocolate sprouts Advent calendar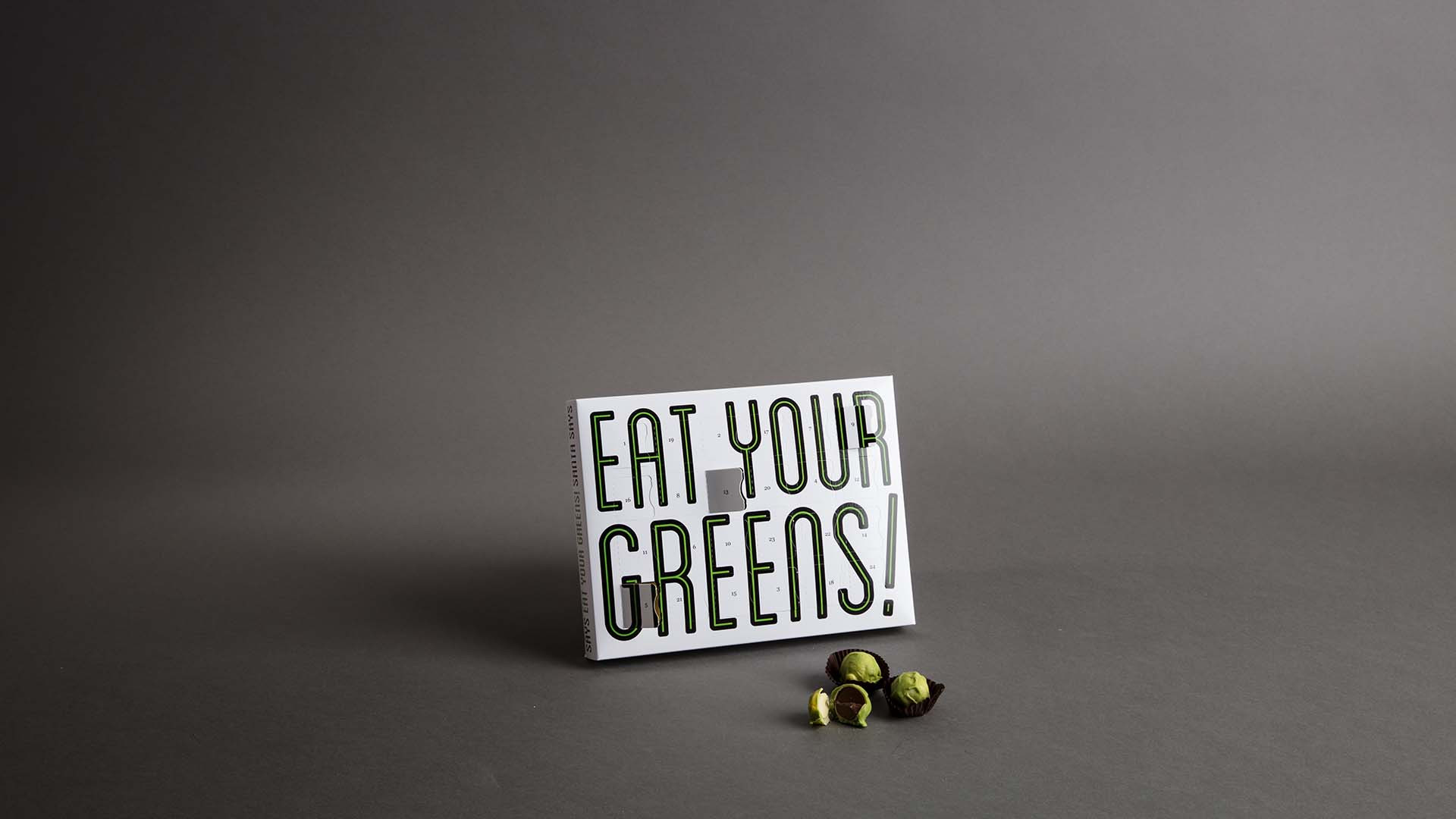 You don't buy the 'Eat Your Greens!' Advent calendar for the chocolate and you certainly don't buy it because it'll look good next to all your posh Christmas decorations – you fork out because chocolate shaped like brussel sprouts is hilarious. Buy this, and you know you can whip out your collection of chocolate sprouts whenever someone comes to visit this December and receive a soul-gratifying 'Ooo… ahh, that's clever, isn't it?' We know it, you know it and neither of us are willing to even try and deny it. 
Big Chilli Advent Calendar by Sous Chef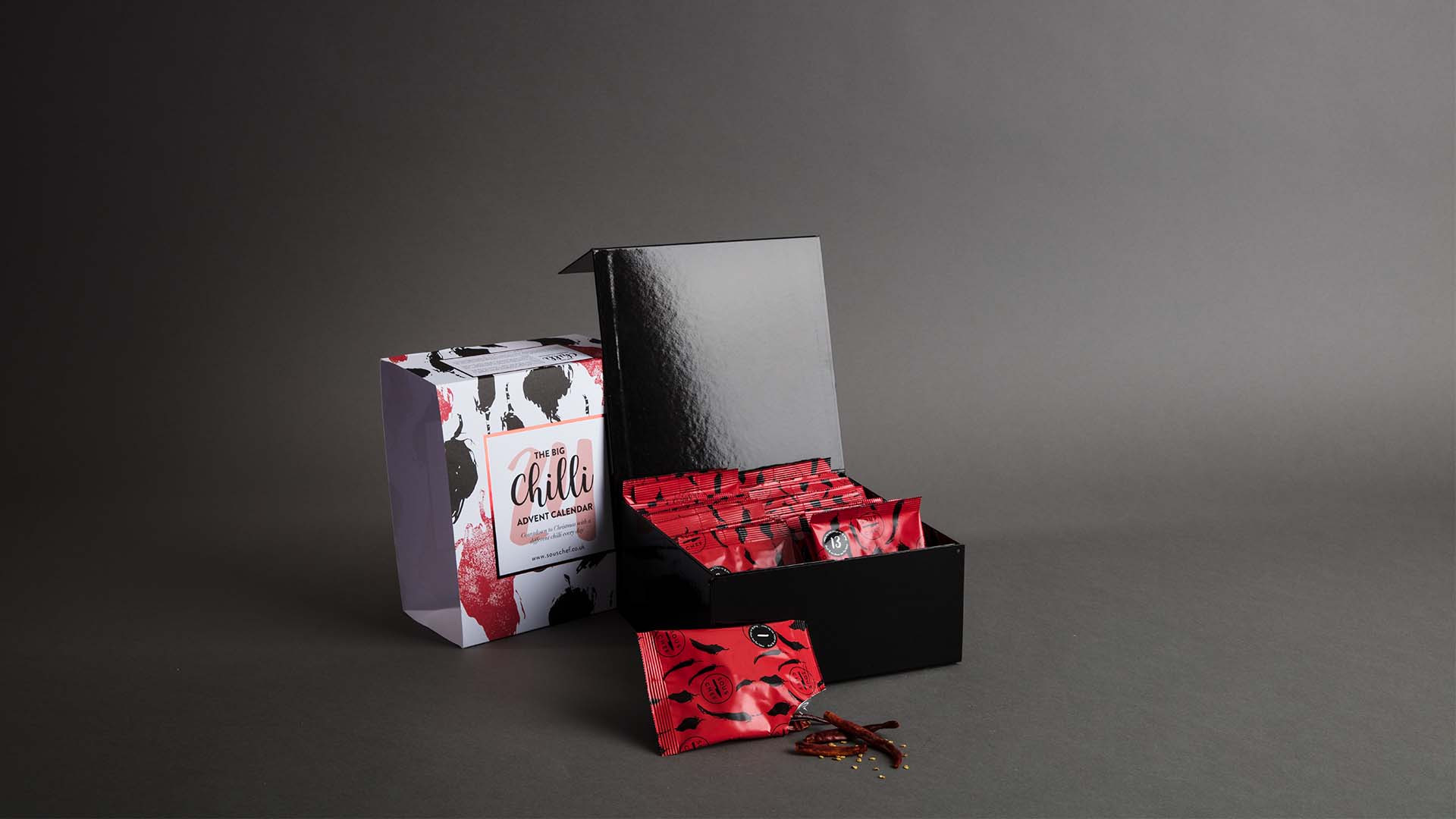 If you're looking for a winter warmer then scroll no further, because we have one for you. Sous Chef's chilli Advent calendar is literally that, with 24 individually wrapped types of chilli – including smoky Mexican chipotle, fiery Indian bhut jolokhia, and sweet prik chee fah from Thailand – it's the one calendar that will keep you feeling warm and toasty… and more some, as the countdown to Christmas sets in. As far as quirky Advent calendars go, this one gets our vote. 
£35; souschef.co.uk
Boozy Advent calendars
Virgin wines Advent calendar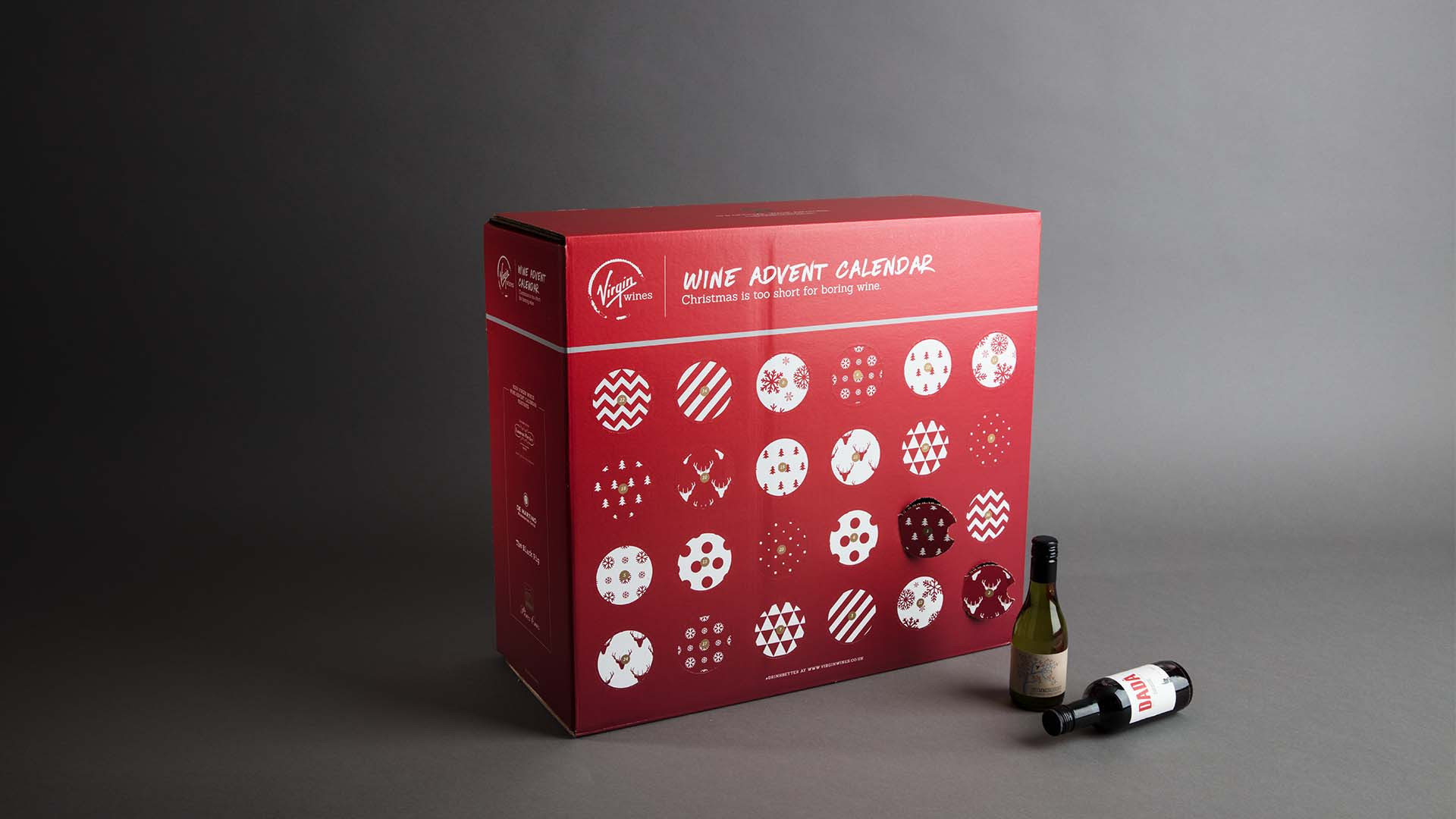 On the first day of Christmas, my true love gave to me: a miniature 2017 Verdelho from South Australia. On the second day of Christmas, my true love gave to me: a miniature 2017 Malbec blend from Argentina. And so on, until it got to 24 December and I had so many miniature wine bottles in my recycling that was was too embarrassed to put the bins out… When it comes to Virgin Wine's Advent calendar, you know that's the way it's going to go, but we'll be damned if we don't have fun while it does. 
£79.99; virginwines.co.uk
Whisky advent calendar by Drinks by the Dram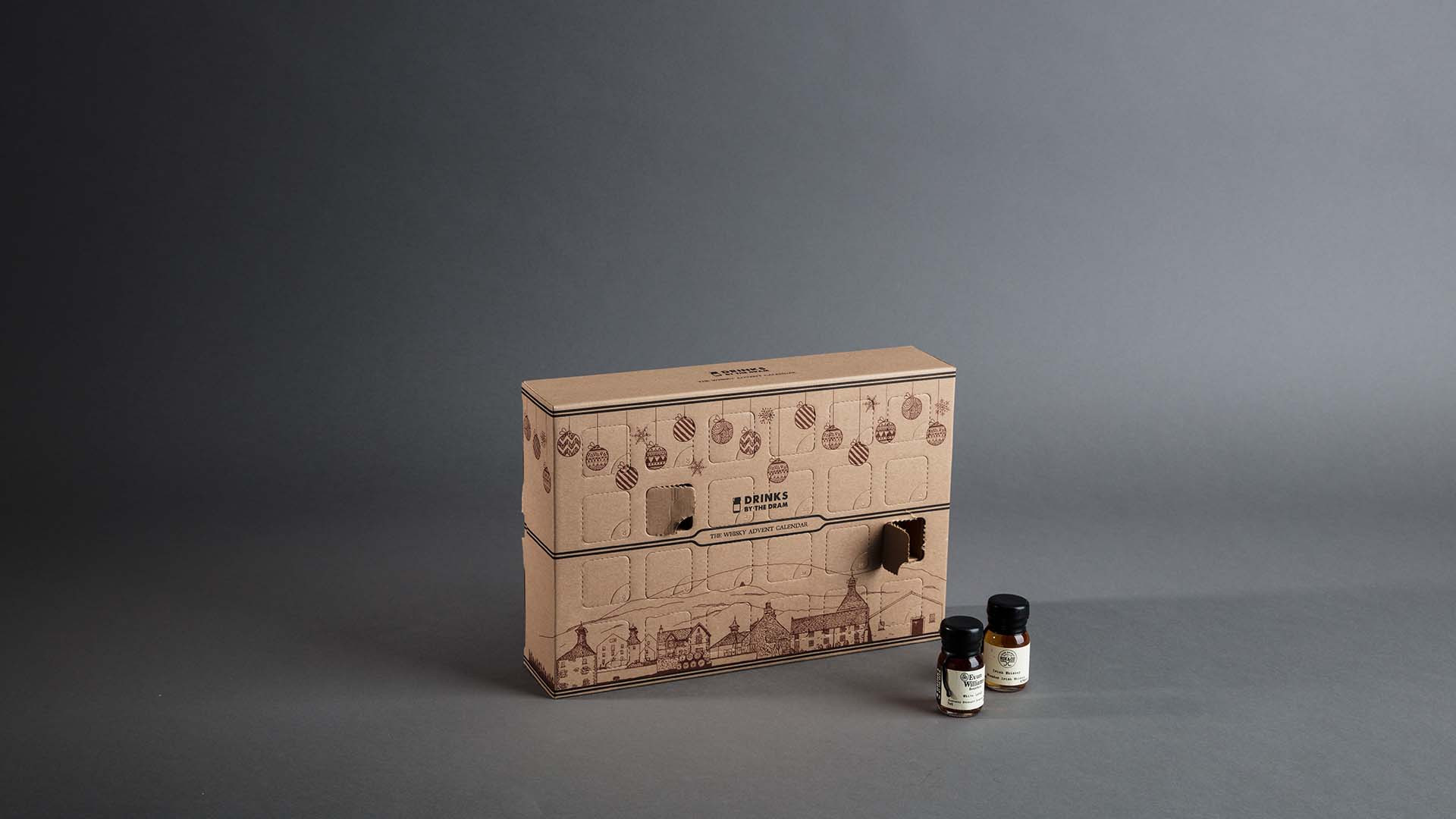 This is where it starts to get serious, and by serious we mean, prepare to splash the cash because this one comes in at our most expensive – yet, might we add, satisfying – Advent calendar. Curated by miniature booze specialist Drinks by the Dram, this offering is made up of 24 different whiskies, from award-winning single-grains to rare single malts and bourbons from all over the world, with some retailing up to £600 for a full bottle. It's every whisky lover's dream, just don't drink them all at once.
£149.95; drinksbythedram.com
Ginvent calendar by Gin Foundry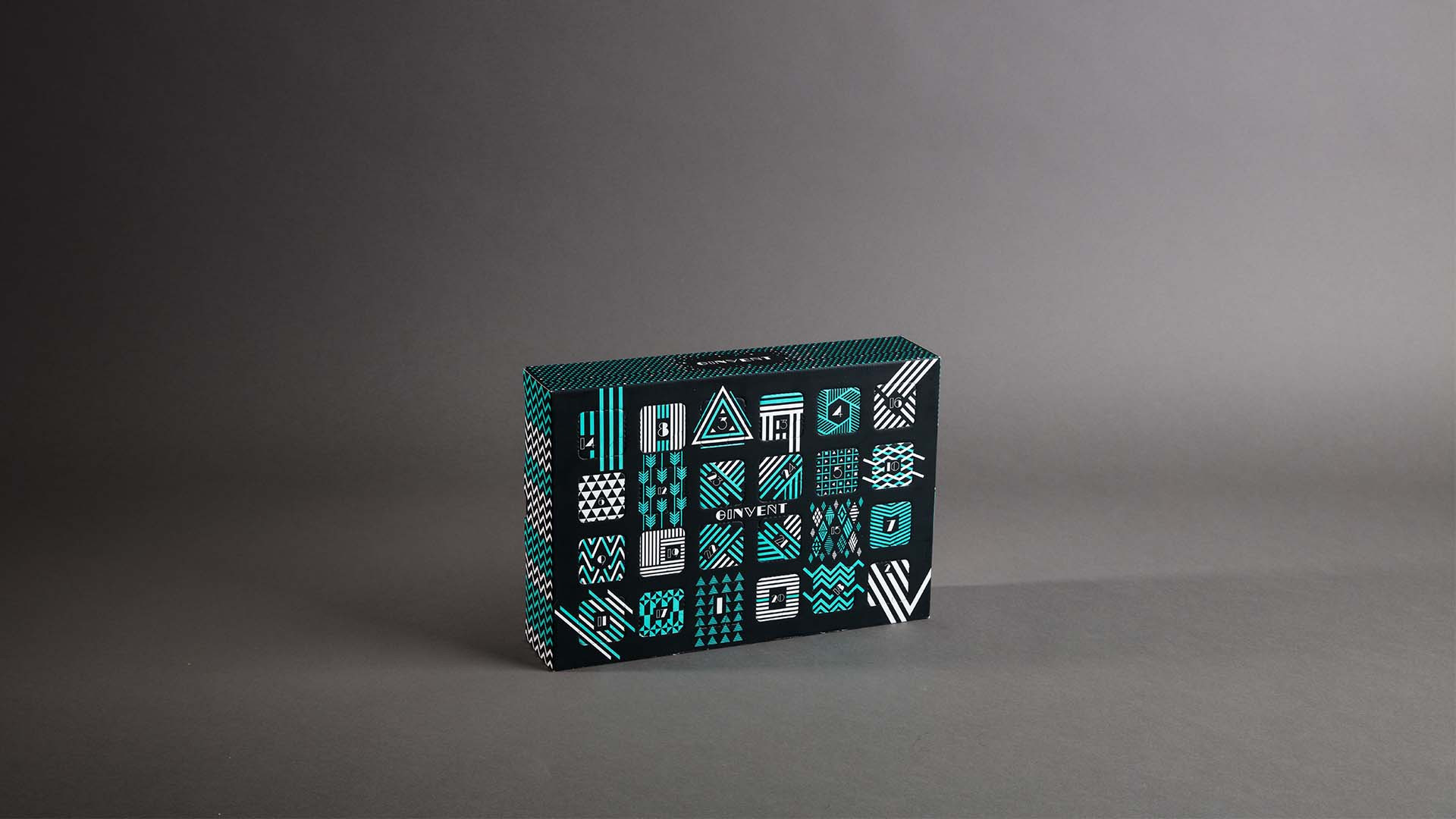 If whisky isn't your thing, then we've got good news: there's a yin to your yang and it comes in the form of Gin Foundry's Ginvent Advent calendar. From Old Tom, to London Dry, to Navy Strength and fruit-infused, you'll find almost every style of gin in your jazzy Ginvent calendar. Did we mention that there's even a Christmas tree flavour? Just a bit. 
£124.95; ginkiosk.com
The Advent calendar that gives back
Reverse Advent calendar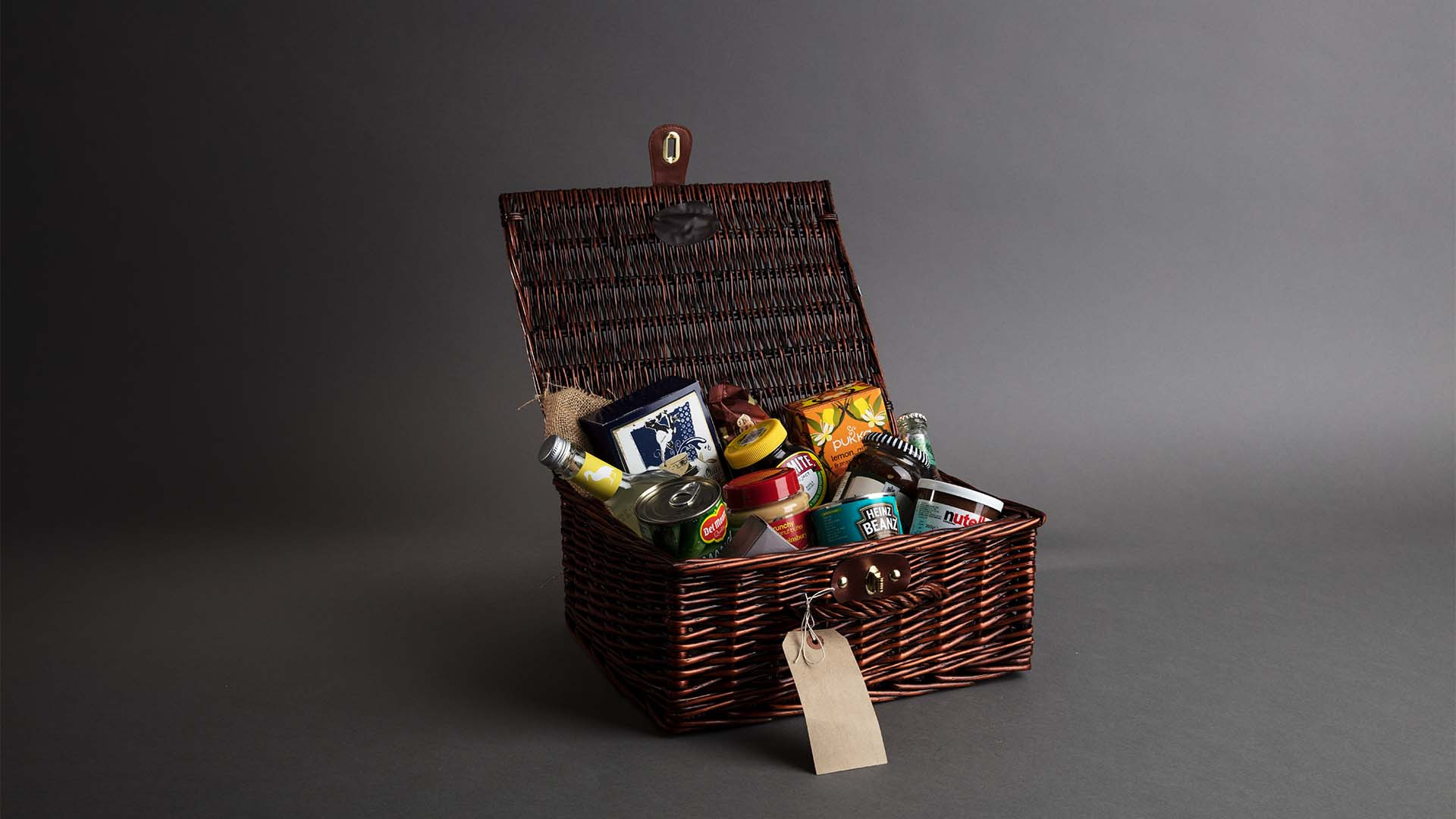 Hi there, now that we've got your attention, we'd like to propose something a bit left-field: this calendar isn't one you can buy in a posh o' shop, it doesn't have pretty little doors and won't fill your mornings with excitement and anticipation – but it will for someone else. This is the calendar that gives back: the reverse Advent calendar you put together at home and hand over to your local food bank so someone less off can have a Christmas that is just that little bit more joy-filled and merry than they otherwise would. Check out The Trussell Trust to find out what food (and non-food) items your nearest food bank needs, get collecting and start spreading that Christmas cheer. 'Tis the season, after all. 
Liked this one? Check out our favourite Advent calendars of 2016 and see how they compare.