London's best vegan-friendly menus
If you're looking for a place with great grub for vegans and meat-eaters alike, you can breathe a sigh of relief as we've done the hard work for you
A vegan, a flexitarian and two meat-eaters walk into a restaurant… No it's not the beginning of a terrible joke, but it is a situation we're coming across more and more as veganism and vegetarianism continue to grow, and, let's be honest, it can make finding a great, suits-all restaurant for dinner feel a bit like mission impossible.
But don't be disheartened: we've made the job easier with this handy round up of restaurants that aren't totally vegan, but offer something for everyone.
Book one of these babies, sit back and bask in your excellent choice. Well done you. 
Rola Wala
36 Brushfield Street, E1 6AT
The lords of modern Indian spice at Rola Wala kicked off their entire offering with a vegan dish – red dal, made with beetroot and seven spices like cardamom, cloves, cinnamon and Kashmiri chilli. It makes sense, then, that the team still has a banging plant-based offering, with Keralan black chickpea with charred sweet potato in a coconut and tamarind sauce, and saagwala (made with spinach and other greens) with roasted garlic. But there's plenty of options to keep meat-eaters happy too, like nagaland lamb and Bengali-spiced beef, brisket cooked low'n'slow with fenugreek, fennel, nigella, cumin and mustard seed.
Arthur Hoopers
8 Stoney Street, SE1 9AA
It makes sense that Borough Market is the place to go for fresher-than-fresh, locally sourced vegetables, and one of the best ways to sample said produce is to take a seat at Arthur Hooper's. Alongside its (frankly delicious) standard menu, the restaurant and wine bar offers a massive selection of veg-based dishes that sound tasty enough to tempt even the most dedicated meat-eater. Here's a just a selection to whet your appetite: crispy artichokes with courgettes, brussel tops and vegan chilli aioli; harissa butter beans, charred tenderstem broccoli and nigella seed; and roasted onion squash with lentils, turnip tops, roasted peppers and salsa verde. And if that wasn't enough, there's a shedloads of vegan wines to wash it all down with, too.
Vegan menu must be request on booking. arthurhoopers.co.uk
Andina
1 Redchurch Street, E2 7DJ
Quinoa, potatoes… and utterly delicious purple corn dumplings, and fermented beetroot and seaweed mash. Yep, you might think you know Peruvian food, but prepare to have your mind blown by a range of ingredients you might not have come across before – particularly when it comes to Peru's incredibly diverse vegetables. The country has more than 4,000 kinds of native potato alone, so imagine what the rest of its natural larder is like. That said, you probably can't afford a flight to South America to find out, so head to Andina in Shoreditch instead, where Martín Morales and team have pulled together a menu that's more than 50% vegetarian, with the potential for most of these dishes to be made vegan. Tacu tacu Quechua (that's braised aubergine with quinoa tacu tacu pancake and tofu), we're coming for you.
90 Degree Melt
235 Mile End Rd, E1 4AA
Oozy, golden, melted cheese is definitely up there when it comes to dishes that vegans miss, so finding a restaurant devoted almost exclusively to vegetarian and vegan grilled cheese sandwiches is like finding a pot of gold at the end of the rainbow. Founder Nidhi Sharma makes fresh sauces like coriander chutney and chipotle every day, also with plenty of fresh herbs and spices, which means her gloriously gooey creations are packed with flavour, whether they've got dairy in them or not. Pick up a spinach and artichoke sandwich slathered in chilli sauce and crammed full of vegan cheddar and parmesan, and we guarantee you'll go home happy – especially if you wash it down with the suggested vegan champagne pairing, too.
Texture
34 Portman Street, W1H 7BY


Who says fine dining can't be vegan? Not Texture's Aggi Sverrisson, who's charged himself with taking plant-based eating to a Michelin-starred level. The restaurant has never used cream or butter except in dessert, so this was the next logical step. The menu changes seasonally, but here's an idea of what you might be eating while your meat-eating mates tuck into their menu: baby Italian artichokes, with purée, broth, olives and herbs, or barley with harissa, hummous, avocado and fennel.
Rosa's Thai Veggie
48 Dean St, W1D 5BF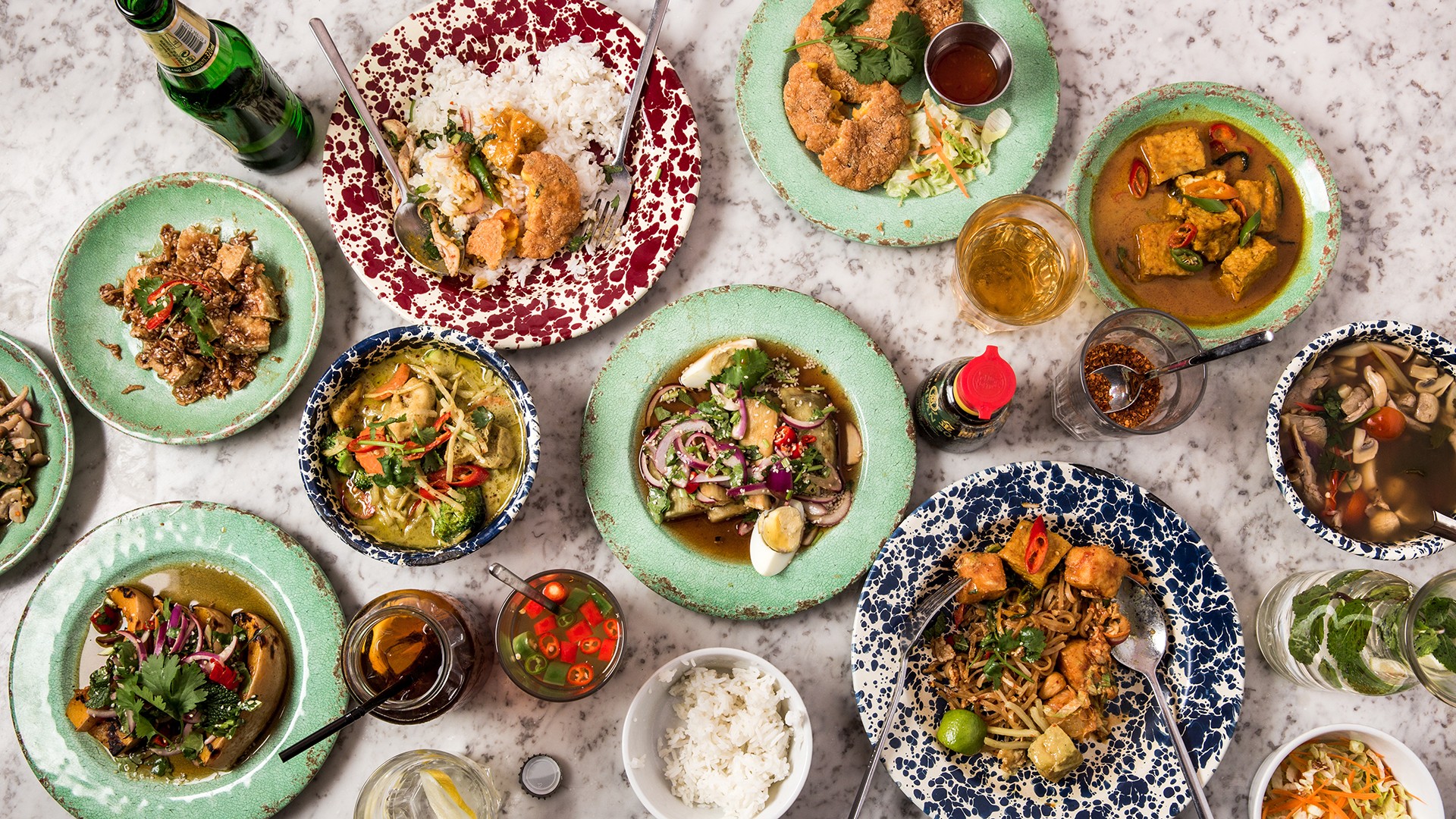 Photograph by Charlie Mckay
At the start of this year, Rosa's Thai Dean Street went completely veggie, turning out favourites like pad thai, stir fried aubergine and thai green curry totally meat-free. You can tuck into a couple of specially designed veggie specials, too. Our menu stalking skills suggest that the tofu satay, laab mushrooms, Panang tofu and tom kha mushroom soup, are particular highlights. But don't let us tell you what's what, get down there and try the stuff for yourself – before the three-month-long initiative is up.
Mildreds
45 Lexington Street, W1F 9AN
If there were an icon of London's vegetarian food scene, it would be Mildreds and its various central London sites. Its team proved that veggie dishes could be bright, perky and delicious – so it's no surprise that it's now doing the same for animal-free eating, with dishes like southern-fried vegan buttermilk and panko mock chicken with red cabbage, maple coleslaw, sweet potato fries and smoked chipotle dip. Mmmmhm.
Lyle's
Tea Building, 56 Shoreditch High Street, E1 6JJ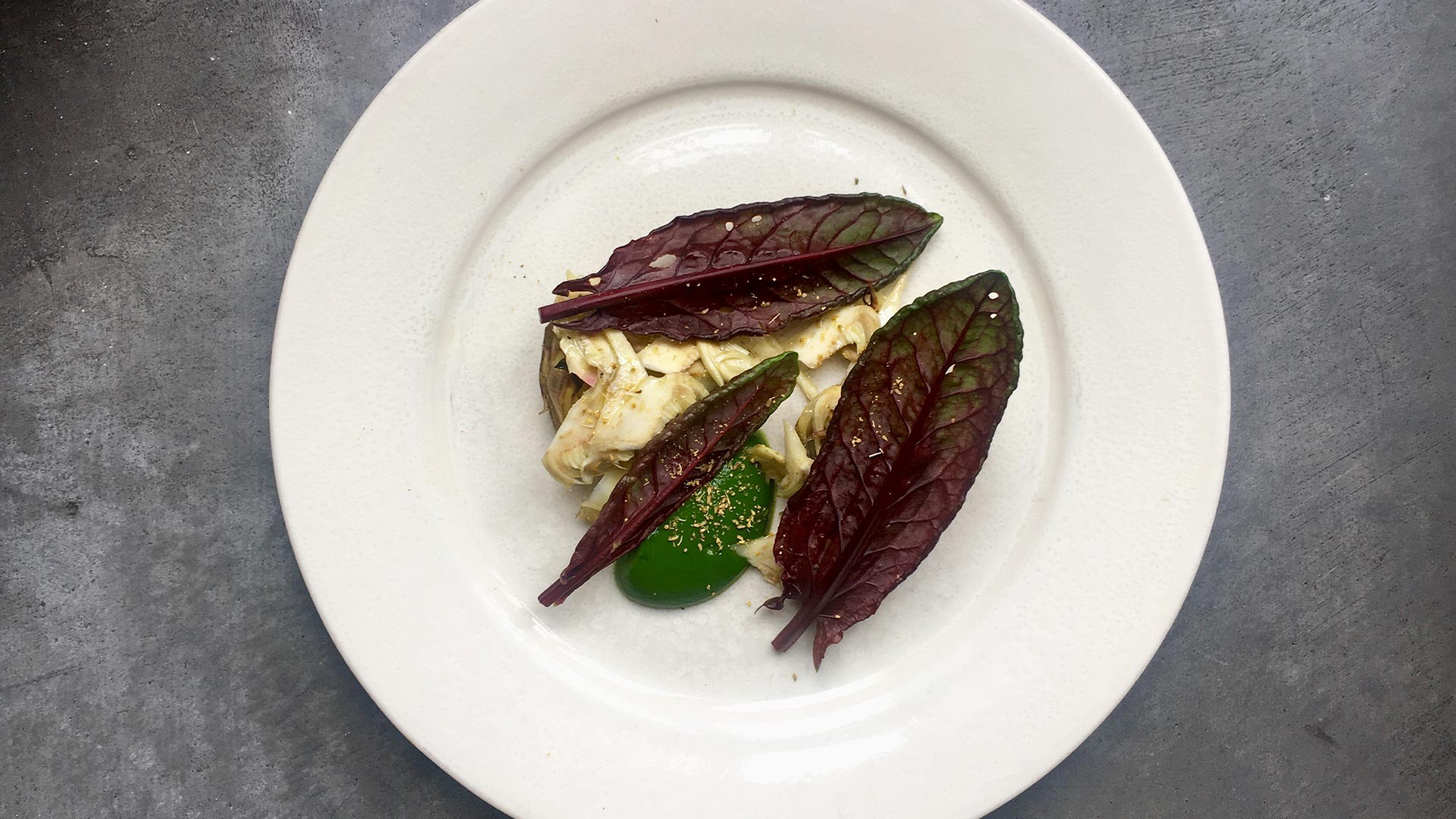 Yeah, we love Lyle's and its chef James Lowe simply because they're great, but we love them even more because they create a proper vegan menu every day to sit alongside their other offerings. As Lowe points out, "I've seen restaurants with set menus where vegetarians and vegans are charged the same but just given a salad. I don't think that's OK." What's more, this attitude carries over into the newly launched bar snacks menu, too. Amen to that.
Jusu Brothers
147-149 Westbourne Grove, W11 2RS
With white-washed walls and trailing greenery, Jusu Brothers' Westbourne Grove site is as stylish as they come, an ethos which carries over into the vegetarian and vegan menu. What we're going to focus on now, though, are the desserts: they're all vegan and they're all sell-your-soul delicious (and they're all healthyish too, but you didn't hear that from us). Lemon pie, made with coconut oil, cashew cream, agave and raspberry, is palate cleansing and moreish, while the BRAWnie – with walnuts, almonds, brazil nuts and hazelnuts – is absolutely everything the perfect brownie should be. Sweet tooth, us? Nah.
St Giles Hotel
Bedford Avenue, WC1B 3GH
OK, so this isn't a restaurant, but hear us out: St Giles Hotels – which runs a hotel in Bloomsbury, one at Heathrow and several more around the world – has decided to offer BOL's plant-based salad and soup pots on its room service menus in the UK. That means you can check in, kick back and relax, safe in the knowledge that you can eat a great-tasting vegan meal packed with fresh ingredients, like Thai coconut curry, Sri Lankan sambar and tomato and lentil soup. Easy.
Foley's
23 Foley Street, W1W 6DU
It usually sets off warning bells when a restaurant spreads itself across several different cuisines. Not so at Foley's, where a menu inspired by the Spice Route brings together flavours that span the Mediterranean and northern Africa, reaching all the way to China and Japan. And this year, Foley's kitchen wizards made their lives even harder by deciding to make veg-based cooking their main focus. That means you'll find dishes like celeriac bang bang noodles with fermented tomato broth, and grilled cabbage with tamari, peanuts and coriander pesto taking top billing on the menu, while meat dishes – char siu roast lamb with grilled mochi flat bread, for example – get the same delicious treatment, but don't take centre stage.