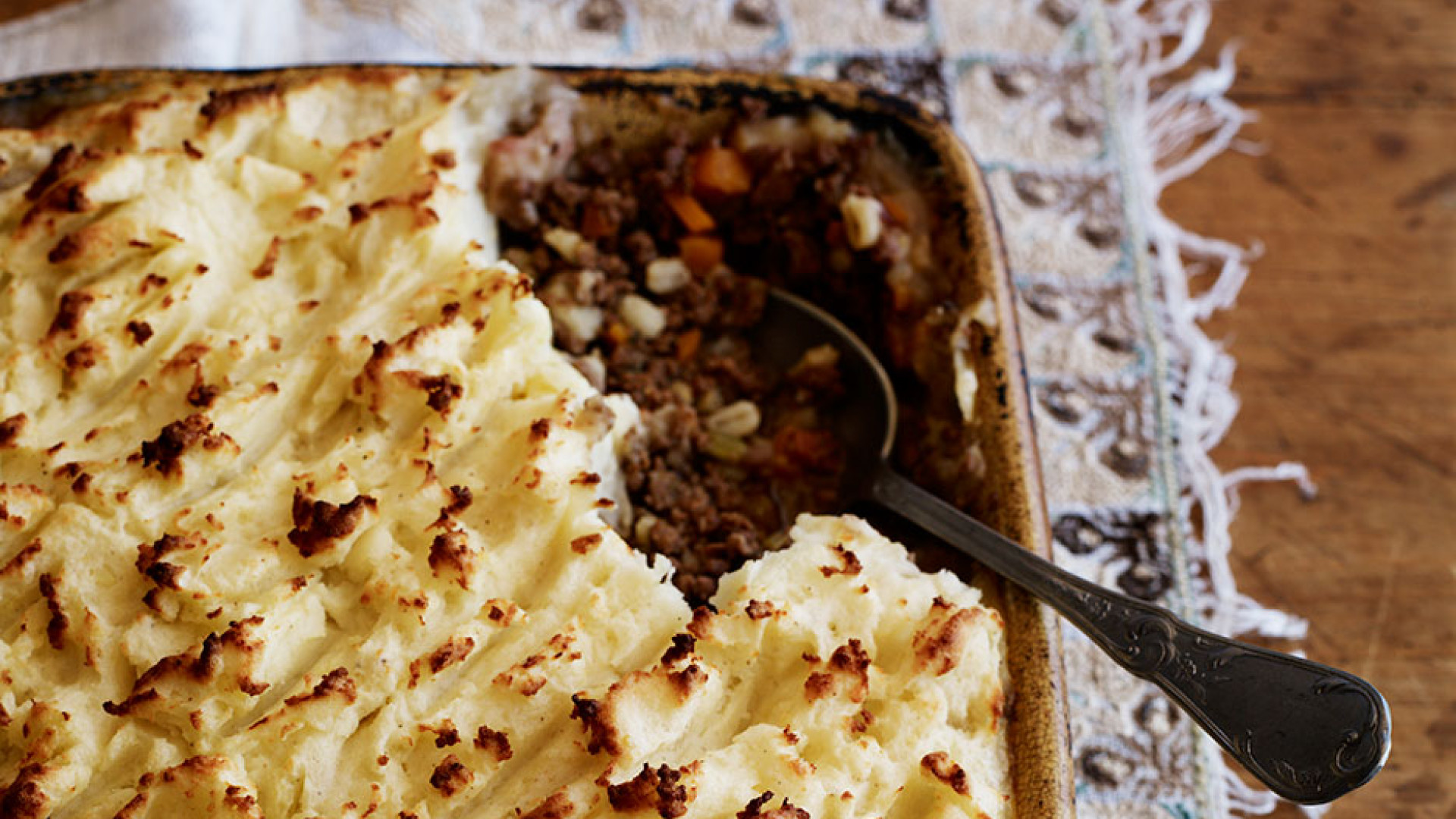 Rich, flavoursome beef topped with creamy mash: cottage pie is a simple recipe that never fails to deliver - and it's a great way to use up leftovers. And that's exactly why Yeo Valley have put together this recipe.
Its recently launched Left-Yeovers yoghurt uses up a whopping 1,120kg of figs, 69kg of carrot juice and 143kg of blood orange juice that the dairy had left in its (evidently enormous) freezer, and, with a helping of strawberries, it's been turned it into a limited-edition flavour. 10p for every pot will be donated to FareShare, a charity that aims to fight hunger and food waste in the UK.
In order to celebrate the launch, the Yeo Valley Restaurant went on a 'shopping freeze,' buying no new ingredients for the week. This is the restaurant's version of a cottage pie, but made with all the flavours of a proper beef stew, while the barley reduces the amount of beef needed while still retaining all the flavour. A tip from Yeo Valley's kitchen: use good minced beef with at least 10% fat and don't be shy with the Worcestershire sauce. 
Ingredients
100g pearl barley
600ml good beef stock – save your bones in the freezer so that you always have some ready to make stock
3 tbsp sunflower oil
150g bacon, finely chopped- doesn't have to be the best bits, this is just the job for the trimmings if you have some
1 large onion, finely chopped
350g carrots, peeled and finely diced
1 large celery stalk, finely chopped
2 garlic cloves, crushed
1.25kg minced beef
1 tbsp thyme leaves
3 tbsp Worcestershire sauce
1 tbsp tomato purée
2 tsp English mustard
Good splash of red wine – the end of a bottle is ideal
Salt and freshly ground black pepper
For the potato topping
1.75kg floury potatoes, peeled and cut into chunks
75g butter
4-5 tbsp soured cream or crème fraîche or yogurt, whatever you have left over
A little freshly grated nutmeg
Method
Put the pearl barley, stock and ¼ teaspoon of salt into a small pan and bring to the boil. Cover and simmer for 25 minutes until tender.
Meanwhile, heat the oil in a large pan, add the bacon and fry briskly until lightly golden. Add the onion, cover and cook over a medium heat for 5 minutes. Add the carrots, celery and garlic, re-cover and cook for a further 5 minutes until the veg are soft and lightly browned.
Add the minced beef, turn up the heat to high and cook for 3-4 minutes, breaking up the meat with a spoon as it browns. Add the thyme, Worcestershire sauce, tomato purée, mustard, wine, cooked pearl barley and stock and simmer for 25-30 minutes until the liquid has reduced and the mixture has thickened. Preheat the oven to 200°C/Gas 6.
Meanwhile, put the potatoes into a pan of salted water, bring to the boil and simmer for 15-20 minutes until tender. Drain well, then return to the pan and mash until smooth (or pass them through a potato ricer). Stir in the butter and soured cream, yogurt or crème Fraiche and season to taste with nutmeg, salt and pepper.
Season the beef mix to taste and spoon it into a large ovenproof dish. Spoon the mash over the top, spread out evenly and then rough up a little with a fork. Bake for 35-40 minutes until bubbling hot and golden brown.
To learn more about Yeo Valley's Left-Yeovers campaign, visit yeovalley.co.uk