Foodism 100: Best Pop-Up or Residency – the shortlist
The Best Pop-Up or Residency category, sponsored by Berry Bros. & Rudd, celebrates food businesses cooking sustainably and ethically on a temporary basis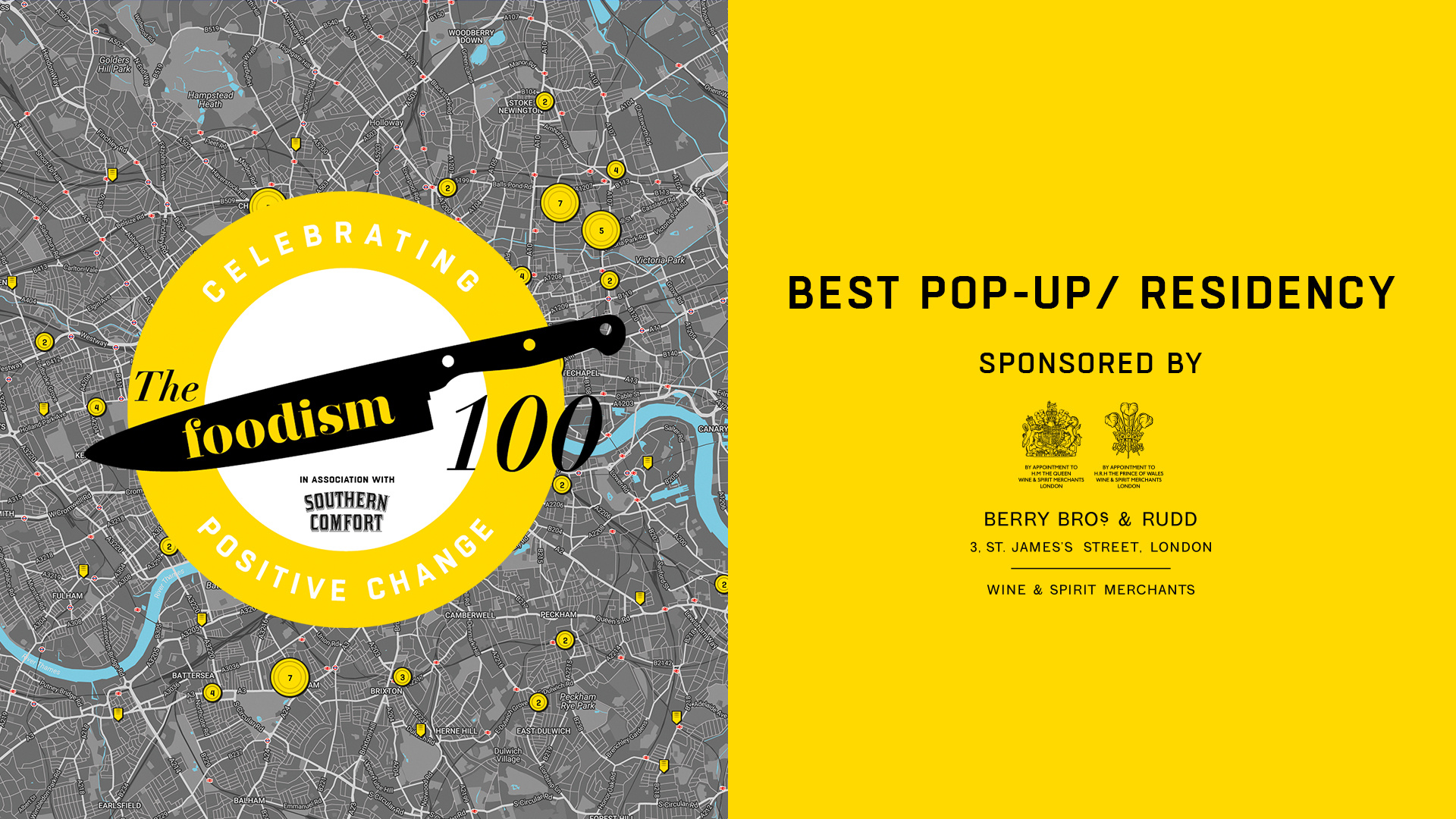 Conflict Café
A supper club from charity International Alert, which uses food from various regions to increase awareness of conflict and raise funds to help build peace around the world.
Various locations; grubclub.com/conflict-cafe
#CookForSyria Bake Off
A regular pop-up that's part of the wider #CookForSyria initiative, raising funds and working with NEXTGen London to help raise money for children in Syria through food events.
Various locations; cookforsyria.com
Crické Food Experience
A regular supper club that aims to teach diners about the potential for insects as a sustainable food source.
Various locations; crickefood.com/food-experience
Flank
A pop-up restaurant in Old Spitalfields Market from restaurateur Tom Griffiths, championing the British nose-to-tail dining ethos through creative meat dishes.
Old Spitalfields Market, E1 6AA; oldspitalfieldsmarket.com/food-and-drink/flank
Fodder
A roving food pop-up specialising in hyper-local, hyper-seasonal and wild ingredients from the British Isles.
Platform1, 71 Lordship Lane, SE22 8EP; facebook.com/fodderpopup
Nape
The dining arm of charcuterie maker and distributor Cannon & Cannon, specialising in cured meats from a network of high-welfare British producers.
Various locations; napelondon.com
#NCSupperClubs
A supper club by Nesan Thirunesan, which donates a portion of its profits to charitable causes and employs single, long-term unemployed parents who want to break into the hospitality industry.
Various locations; @ttnesan
Smoke & Salt
A fine-dining pop-up experience that foregrounds seasonal British produce, with a focus on smoking, curing and fermenting.
Pop Brixton, SW9 8PQ; smokeandsalt.com
Tiny Leaf
A residency at Mercato Metropolitano that repurposed otherwise wasted food in new and exciting vegetarian dishes.
Mercato Metropolitano, SE1 6DR; tinyleaflondon.com
wastED London
A pop-up from acclaimed chef Dan Barber, which used waste products in an eclectic and ambitious menu on the rooftop at Selfridges.
Selfridges, 400 Oxford Street, W1A 1AB; wastedlondon.com