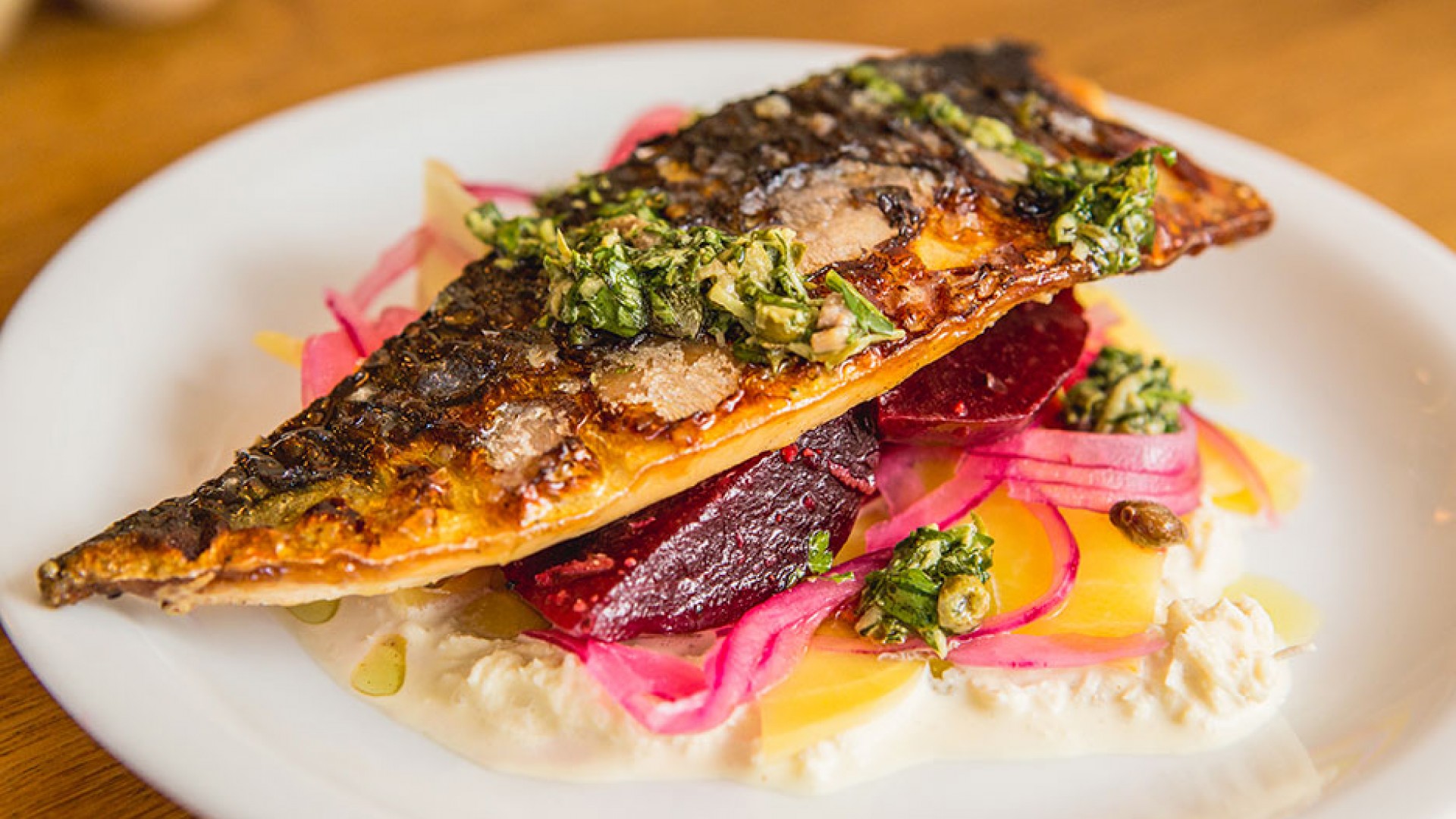 Having earned his stripes as Polpo's chef director, Tom Oldroyd set out on his own last summer to bring us seasonal, British cuisine, and he's done it with such panache that his eponymous Islington restaurant has shot straight to the top of our must-eat lists. Can't get a reservation? Fake it at home with his recipe for mackerel with beetroot two ways and salsa verde. 
Ingredients
1 large plump & shiny mackerel filleted & small bones removed. Ask your fishmonger if you're not sure how to do this.
For the cooked beetroot
200g ruby red beetroot
25ml red wine vinegar
A good pinch of sea salt
Good olive oil 
For the pickled beetroot
100g of golden beetroot
Half a small red onion
100ml cider vinegar
35g caster sugar
A pinch of sea salt 
For the horseradish cream
30g of grated horseradish
Half a tbsp of Dijon mustard
4 tbsp creme fraiche
Salt & pepper 
For the salsa verde
One small handful of chopped parsley
Half a handful of roughly chopped capers
Half a handful of roughly chopped cornichons
Half a handful of chopped basil
Half a handful of chopped mint
Half a handful of chopped tarragon
1 tbsp Dijon mustard
4 tbsp red wine vinegar
Method
Firstly, put your beetroot in a pan of water (to just cover) with the vinegar & salt and simmer gently until a knife can easily be inserted into the largest one - about 40mins for medium beets. (To save on time you could buy good quality cooked beetroot).
When your cooked beetroot is cool enough to handle, peel, cut into wedges and dress with a little olive oil, vinegar, salt & pepper. Leave to one side.
While the beetroot is cooking prepare the other components. 
In a bowl mix the cider vinegar, sugar and salt and stir until the sugar dissolves.
Peel and finely slice the golden beetroot and red onion and place into the pickling vinegar. Leave for at least 30 minutes to soften.
To make the horseradish cream, simply mix all the ingredients together, season & taste. 
For the salsa verde, mix all the ingredients together and add more olive oil if needed. The sauce should be spoonable. 
Now, take a heavy frying pan and heat some oil on a medium heat. Season the mackerel fillets on both sides and gently lower them into the pan, skin side down, away from you (reducing the risk of splashing hot oil towards you). Now don't play around with the fish. Leave them alone. They are going to do 80% of their cooking time on the skin side. They will take approximately 5 minutes skin side down.
Plate up whilst the mackerel is cooking. Spoon & spread some horseradish cream onto each plate. Top with some wedges of cooked ruby beetroot & top again with the pickled golden beetroot and red onion.
When the fish is three quarters cooked remove the pan from the heat, flip the fish and leave for 10 seconds before lifting out and placing on top of the beetroots. To finish, spoon over some salsa verde.
Oldroyd, 344 Upper Street, N1 0PD; oldroydlondon.com.